Menu
The Tiger That Isn't
Seeing Through A World of Numbers (with Andrew Dilnot)
A painless introduction to the maths of the real world by the team who created and present the hugely popular BBC Radio 4 series More or Less.
Mathematics scares and depresses most of us, but politicians, journalists and everyone in power use numbers all the time to bamboozle us. Most maths is really simple – as easy as 2+2 in fact. Better still it can be understood without any jargon, any formulas – and in fact not even many numbers. Most of it is commonsense, and by using a few really simple principles one can quickly see when maths, statistics and numbers are being abused to play tricks – or create policies – which can waste millions of pounds.
It is liberating to understand when numbers are telling the truth or being used to lie, whether it is health scares, the costs of government policies, the supposed risks of certain activities or the real burden of taxes.
First published by Profile Books in 2007.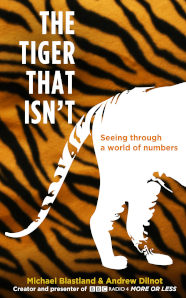 Reviews
'Constantly sparks 'aha! moments'
The Guardian
'Witty… fascinating… invaluable'
David Dimbleby
'Makes statistics far, far too interesting'
Rory Bremner
'This delightful book should be compulsory reading for everyone responsible for presenting data and for everyone who consumes it.'
The Sunday Telegraph
'The truth is here. One, two, three.'
The Times
'Very funny.'
The Daily Telegraph
'A book about numbers and how to interpret them doesn't sound like interesting bedtime reading. Yet in the hands of Michael Blastland and Andrew Dilnot, that is what it becomes… a reliable guide to a treacherous subject, giving its readers the mental ammunition to make sense of official claims. That it manages to make them laugh at the same time is a rare and welcome feat'
The Economist (An Economist book of the year 2007).
'A compelling case for building, at the heart of government, a culture that respects data.'
David Bell, permanent secretary of the Department for Children, Schools and Families