Michel Thomas
The Test Of Courage
Michel Thomas survived starvation in French concentration and labour camps, and endured torture as a fighter with the French Resistance. He saw combat with the US Army and after the war hunted Nazis as an officer with the US Counter Intelligence. He captured important war criminals and was a witness in the trial of Gestapo Chief, Klaus Barbie, Butcher of Lyon. These unique and varied experiences enabled him to forge a revolutionary learning system that made him one of the world's leading language masters. The story of Michel Thomas reads like a thriller in which adventure and heartbreak combine to produce a unique form of wisdom.
To those who were taught by him, Michel Thomas seemed to be a miracle worker with a magical gift for unlocking the secret powers of the mind. This unique understanding was gained under extreme circumstances. Stateless in Vichy France at the beginning of the Second World War, he was incarcerated and starved in a concentration camp at the foot of the Pyrenees. Force into slave labour in a coal mine in Provence, he avoided being sent to Auschwitz by hiding within the confines of a deportation camp for six weeks.
He escaped death to join the Secret Army of the Resistance. He was arrested and interrogated by Klaus Barbie, Butcher of Lyon, whom he deceived into releasing him, and was later re-arrested by the French Gestapo and tortured. He held out by enter a psychological state in which he no longer registered pain and after six hours of torture, his tormentors threw him into a cell and he survived to re-join the Resistance. After the Allies invaded France he joined the American forces, fought his way into Germany and was with the troops who liberated Dachau. He personally interrogated the camp's hangman and oversaw his hand-written confession.
At the end of the war he became a Nazi-hunter. Working for American Counter Intelligence he posed as a Nazi himself to infiltrate and expose underground networks of SS men dedicated o the return of a Fourth Reich.
In spite of the fact that his entire family had ben murdered in Auschwitz, and many close friends killed in combat, at the very end of the war he stage an elaborate gala evening in Munich which he called a Reconciliation Concert. Using German musicians, and in defiance of strict Allied non-fraternisation laws, he brought friend and foe together in the belief that there had to be a different and better future.
Author Christopher Robbins has dug deep to explore and substantiate the details of the Michel Thomas story. He has authenticated every episode through camp records, Vichy documents, Resistance papers, US Army reports and hundreds of hours of interviews with this extraordinary man. The result is one of the most inspirational stories of the twentieth century.
First published by Century (Random House, UK) in 2000.  Ressued in e-book by Apostrophe (UK) in 2012.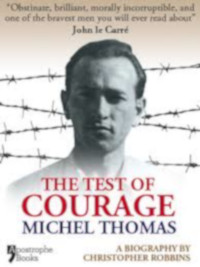 Reviews
'Chris Robbins has given us an irresistible phenomenon: obstinate, brilliant, morally incorruptible and one of the bravest men you will ever read about.'
John le Carré
'Intriguing biography… a vivid, life-affirming narrative that exerts considerable power.'
The Times
'Steven Spielberg crossed with Tolstoy crossed with John Le Carré…'
The Independent
'It gives a whole new perspective to the idea of being a hero…Fascinating.'
Open Book – BBC
'This book is a right riveting read, a humdinger of a yarn… Michel Thomas has seen and done things the rest of us can only have a morbid curiosity about… One is left wondering about the nature of heroism itself, and of sacrifice.'
Scotland on Sunday
'Fascinating… The Test of Courage chronicles, not only European history since the First World War, but also Michel Thomas's amazing acts of integrity and courage.'
Jewish Telegraph
'Exhaustively researched… Christopher Robbins writes Thomas's life story in thriller mode… the man himself puts one in mind of a character out of "The Thirty-Nine Steps" – complete with a flower in his buttonhole.'
Jewish Chronicle
'Long ago the bestsellers were stories of wartime heroism… Thomas was a hero too but his exploits have had to wait until we were ready to dig a little deeper into the complexities of the war… The book is a long-belated catharsis… At one level it is an old-fashioned tale of wartime exploits; but the dark themes underneath are just right for post-Schindler Spielberg.'
Hamstead & Highgate Express
'A remarkable biography of an astonishing man… the author paints an enthralling portrait of triumph against evil and adversity.'
Kingsbridge Gazette
'A quite exceptional biography… moving… remarkable…'
The Southland Times (New Zealand)
'The magnetic potency of Michel Thomas's teaching is partly explained by the Test of Courage, as much a thriller as a biography and not to be missed.' Emma Thompson, Academy Award-winning actress