The Making of Incarnation
Bodies in motion. Birds, bees and bobsleighs. What is the force that moves the sun and other stars? Where's our fucking airplane? What's inside Box 808, and why does everybody want it?
Deep within the archives of time-and-motion pioneer Lillian Gilbreth lies a secret. Famous for producing solid light-tracks that captured the path of workers' movements, Gilbreth helped birth the era of mass observation and big data. Did she also, as her broken correspondence with a young Soviet physicist suggests, discover in her final days a 'perfect' movement, one that would 'change everything'?
An international hunt begins for the one box missing from her records, and we follow contemporary motion-capture consultant Mark Phocan across geo-political fault lines and experimental zones: places where the frontiers of potential – to cure, kill, understand or entertain – are constantly tested and refined. And all the while, work is underway on the blockbuster film Incarnation, an epic space tragedy.
Audacious and mesmeric, The Making of Incarnation weaves a set of stories one inside the other, rings within rings, a perpetual-motion machine. Tom McCarthy peers through the screen, or veil, of technological modernity to reveal the underlying historical and symbolic structures of human experience.
First published by Jonathan Cape (Vintage, Penguin Random House) in September 2021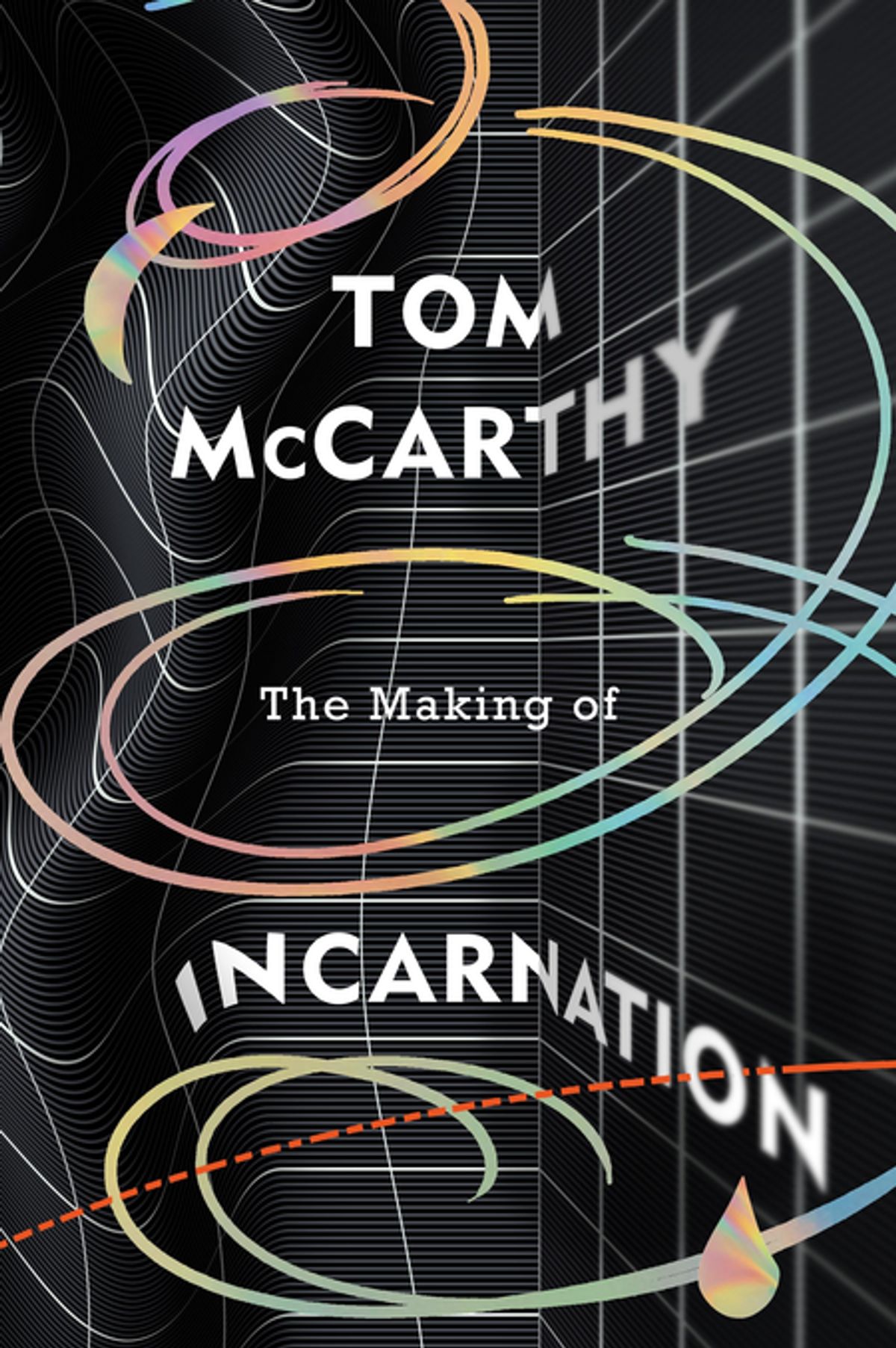 Reviews
'In its conceptual magnitude, its sustainedly dazzling prose… The Making of Incarnation feels utterly original, utterly new, utterly magical… Tom McCarthy, the most visionary of contemporary writers, is light years ahead of anyone writing anywhere currently.'
Neel Mukherjee, author of The Lives of Others
'A typically ambitious mille-feuille of modernity, symbolism and myth.'
Katy Guest, Guardian
'One of the most brilliantly intellectual novelists of the moment… The Making of Incarnation is like a ghostwritten hybrid of a John le Carré thriller, the post-modern philosophy of Jacques Derrida and a sci-fi romp all at the same time… There is something uplifting about McCarthy's work. He makes you think, and he makes you think things you hadn't thought before.'
Stuart Kelly, Scotland on Sunday
'Hugely interesting, energetic, wise and well written'.
Sam Leith, GQ
'Difficulty is…part of the pleasure of reading McCarthy… The Making of Incarnation is a novel of motion rather than emotion; imagine an even chillier JG Ballard… a rich and fascinating exercise in observation'
Charles Arrowsmith, Washington Post

'Tom McCarthy has worked his magic once again'.
Andrew Gallix, Irish Times
'.. brilliant, multilayered … McCarthy's is a prodigious intellect, keenly tuned to the 'aestheticization of technology,' frenetically Feynmanian, joyously Kafkaesque, yet distinctly a category of one'.
Bill Kelly, Booklist

'McCarthy arcs and zigzags through the parameters of contemporary fiction and achieves a brilliant new form'
Publishers Weekly

'There is a visual splendour in this new novel, matched by a strong plot. With The Making of Incarnation McCarthy adds to his reputation as one of our most knowledgeable and perceptive novelists.'
BookMunch