The Empress of Ireland
A Chronicle of an Unusual Friendship
Christopher Robbins was a bright but impoverished young journalist when he met Brian Desmond Hurst in the early 1970s. Hurst was then in the twilight of his career as Ireland's most prolific film director — many years had passed since he'd made his most famous film, an adaptation of A CHRISTMAS CAROL with Alastair Sim in 1951. But Brian's formidable desire, energy and joie de vivre were still much in evidence, and Robbins was contracted to write the screenplay for Hurst's swansong, a vast biblical epic starring Laurence Olivier and Michael Redgrave.
Thus began a friendship that lasted until Brian's death in 1986. It was a period full of laughter, eccentricity, laughter, travel, adventure — and laughter. They made an odd pair — the elderly, theatrical and larger-than-life Hurst and the young, slightly naïve but keen Robbins — but Chris now acknowledges the debt he owes his mentor: a debt of friendship he wants to repay. This wonderful book is the result.
The Box Office Blockbuster never happened, but in trying to get the project off the ground Chris had entered Brian's world. This, his memoir of that time and their friendship, is a wonderfully engaging and often hilarious portrait of one of the last great eccentrics.
First published by Simon Schuster (UK) in 2004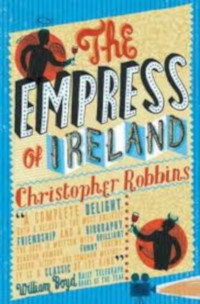 Reviews
'A complete delight. Both a record of the most unlikely friendship and a biography, the book is written with brilliant deadpan humour as it relates the detail of Hurst's extraordinary eccentric life. Funny, shrewd, absurd, bitchy, camp – and somehow moving – it is a classic of its kind.'
William Boyd, Daily Telegraph Books of the Year
'I vastly enjoyed The Express of Ireland…Hilarious.'
Lynn Barber, Daily Telegraph 'Books of the Year'
'The Empress of Ireland brings back to life on of the most outrageous characters ever to sit in the film director's chair.'
Simon Callow, The Observer, 'Books of the Year'
'Both moving and genuinely hilarious. I laughed out loud.'
Gyles Brandreth, Sunday Telegraph 'Books of the Year'
'Written in a delightfully camp style the book has heartache at its core.'
Daily Telegraph Christmas List of top 20 non-fiction books
'Magnificent…a consummate and classic portrait…a fine book about the liberating friendship of opposites, about the masks of personality, about the coming of wisdom. It is also endlessly funny and brilliantly colourful. Something of a masterpiece, in fact.'
Simon Callow, The Guardian
'Larger than fiction…In addition to his buccaneering hero, Robbins introduces us to a magnificent gallery of fellow rogues who will make you laugh out loud…'
Guardian Picks for Summer Reading
'Vivid and hilarious…deserves to become a classic.'
The Sunday Times
'A beautifully written memoir…Hilarious.'
William Shawcross, The Sunday Telegraph
'Comedy and pathos abound in this pithy comic masterpiece…deserves to become a classic.'
Christopher Silvester, The Sunday Times
'My book of the year..Hilarious and unexpectedly moving.' – Mark Gatiss, The Times
'A small masterpiece'
The Independent
'This delightful and often hilariously funny memoir is also an endearing rites-of-passage book . . . sparkling.'
Craig Brown, 4 star review The Mail On Sunday
'Will outrage prudes but delight everybody else.'
The Independent On Sunday
'Storytelling at its best…Well-written and engagingly funny…invaluable and immensely enjoyable.'
Scotland On Sunday
'Waltzes off the page.'
The Scotsman
'Truly engrossing…truly moving.'
Sunday Business Post
'Perfectly captures the eccentricities of the time.'
The Observer
Riveting and witty..warm-hearted but searingly funny memoir…The Empress of Ireland is a quirky gem that is hard to classify.'
The Sunday Express
'Highly entertaining…Thoroughly engaging and remarkably witty throughout.'
Irish Times
'Highly enjoyable and hilarious…'
Sunday Independent (Dublin)
Film book of the year Cork Film Festival 2004
'Combining comedy and pathos, it is full of incident and warmth. A lovely book.'
The Bookseller
'This is the funniest book of the year..By turns hilarious, touching and entertaining, but not for the narrow minded.'
Daily Express
'Anyone who loved Withnail and I will be entertained by Robbins's comic misadventures.'
Publishers Weekly
'Heartfelt memoir…warm, hilarious, immensely readable…hard to put down.'
Booklist
'A warm and wonderful tribute to friendship…Lively, spectacularly funny anecdotes…'
Good Reading Magazine
'Robbins effervescent prose hums to its own tune, with anecdotes amusing hilarious and horrific…'
Entertainment Weekly (US)
'Every newspaper office attracts an awful lot of books for review. Then every so often a small gem makes all the hokey titles fade from memory. Empress of Ireland is such a book…Robbins shows great skill as a storyteller, with an extraordinary ability to deadpan even the most outlandish scenes. The book has won many awards and deservedly so.'
Irish Voice (US)
Endorsements
'A wonderfully rich and vivid memoir of an extraordinary character. Christopher Robbins's portrait is perfectly pitched: full of deadpan comedy, but also shrewd and warm-hearted.'
William Boyd
'A delightful memoir…warm-hearted, very funny and a terrific read.'
David Hockney
'A hoot of a book with laughter on every page….a rattling good read.'
Sir Ian McKellen
"I urge you to climb aboard the unique and hilarious ride that is Brian Desmond Hurst's life — a truly delumptious and exotic caravan of an adventure. For anyone who has ever yearned to meet and be entertained by a true eccentric, you'd be hard pressed to outdo Brian Desmond Hurst. A scoundrel of a good read."
Richard E. Grant
"Christopher Robbins is an excellent writer and has drawn an accurate picture of an extremely talented and extraordinary fantasist."
Sir Roger Moore
'Absolutely wonderful. The Empress of Ireland is making me feel so much better about life: such a loving testament to an amazing character and a deep, if unusual friendship. It is so funny and moving, yet not at all sentimental. And what an amazing cast of characters and series of events. Above all, of course, it is quite beautifully written.'
John McCarthy
'This enthralling memoir tells the true story of a young writer, at a formative time of his life, who goes to work for a brilliant and capricious film director nearing the end of his career . . . Mr Robbins has written a delightful, funny and ultimately touching book, full of nostalgia and truth about their odd but important friendship.'
Jonathan Lynn (writer of Yes, Minister among others)
'Empress is so good – really funny, original, human, humane, by turns hilarious and wonderfully touching.'
Gyles Brandreth
'Agonisingly funny…I read it very slowly and am very disappointed to have finished it.'
Virginia Ironside
'I loved this book/ Full of vivid characters, it is a huge achievement. I laughed out loud at this unusual portrait of a lost and graceful world.'
Selina Hastings