White Lies
Rape, Murder & Justice Texas Style
Conroe is a town with something to hide. When a white girl is murdered in the high school, suspicion falls on the only black man near the scene, Clarence Brandley. His fight to prove his innocence becomes a struggle to expose the grim truth about the East Texas town. On one side stand the traditional defenders of the old South: the Texas Ranger with his white Stetson and silver badge; the power-mongering District Attorney; the Mayor with his cigar as thick as a swan's neck.
Facing them is an army of underdogs led by a white priest-turned-detective, a tough Texan private eye, a charismatic black community leader and a handful of attorneys who dare to stand up for justice. Pursuing the truth about the schoolgirl's death through a maze of corruption and violence, Brandley's supporters seek help from a bizarre cast of unlikely heroes and finally confront the racism that lurks beneath the surface of American life, hidden by the web of white lies.
First published by Chatto & Windus (Random House, UK) in 1991.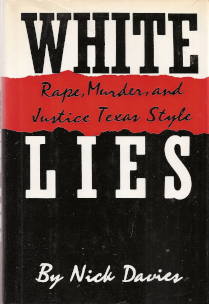 Reviews
"A terrifying story of racial injustice in a small Texas town, told with a rare combination of moral passion, historical understanding and narrative power."
Nicholas Lemann.
"Horrific – the full-scale perversion of the American justice system."
New York Times.
"A crusading, exhaustive report of one of the deep south's most highly publicised and insidiously racist mistrials…. Effectively exposes the persistence of Klan-style justice."
Kirkus Reviews.
"Fast-paced… Compelling… Meticulous attention to detail… Lays evidence of corruption, ineptitude and pettiness at the feet of investigators and county officials."
Houston Chronicle.