Grace
Her Lives – Her Loves
Long before she became a princess, Grace Kelly was a legend, a fabled movie star whose aloof and aristocratic bearing belied a deep sensuality within. Grace the icon and Grace the woman were two very different creatures. She was deeply mourned when her car careened off a narrow road in September 1982.
Grace reveals new details about the accident and about the circumstances surrounding the star's medical care and death. It is also the first balanced portrait of a complex, deeply conflicted actress, wife, and mother who dared to make her dreams come true – a haunting tale of a beloved tragic heroine.
The extraordinary story begins in Philadelphia, where Grace's father, Jack Kelly, an Olympic athlete and local hero, often shunned his shy and sickly daughter. Grace was determined to win the attention of her father and the world. While carefully cultivating the image of the white-gloved young lady, she became a surprisingly brazen, even reckless, young woman.
Grace's joy at her wedding to Rainier and her disenchantment with her cloistered palace life are recounted, the depth of Grace's hurt caused by her husband's autocratic treatment of her revealed.
The princess soon found herself living a separate life from Rainier in Paris. To her public, however, Grace always maintained the image of Her Serene Highness, the adored princess who had achieved perfect happiness and who kept up the hard work at her official and charitable duties.
Reissued in 2014, by Apostrophe Press, the The digital edition of Grace includes an embedded video, a link to a collection of more than 100 photos on Apostrophe's website, links to the trailers of all 12 of Grace Kelly's movies and links to nearly an hour's worth of British Pathé newsreel footage.
First published by Macmillan (UK) in 1995.  Reissued as an e-book by Apostrophe Press (UK/US) in 2014.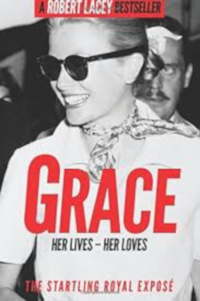 Reviews
"Racy, crammed with gossip and anecdotes"
Cosmopolitan
"Kelly was a living legend, but Lacey makes her real without really diminishing her effect and effectiveness… Lacey does more than recite known facts. He digs deeper, and his picture is one far more realistic than the impossibly wholesome depiction than Holywood wanted us to accept".
Booklist
"Highly Readable"
Kirkus Reviews
"Definitive."
Vanity Fair
"A definitive biography with a shrewd final verdict."
New York Times Book Review
"Through interviews with Grace Kelly's family and friends, Lacey penetrates the storybook veneer around Kelly's life to reveal a surprisingly complex, conflicted woman."
Goodreads
"(A) serious work that…is rich in anecdote yet captures the broad story."
Library Journal
Library Journal – "(a) serious work that…is rich in anecdote yet captures the broad story"
"Lacey is an intelligent and highly competent biographer and, against the odds, has got out a book that will, surely, be the last word on its subject."
Riviera Reporter