THE EXPLOSIVE NEW THRILLER OF A WORLD THAT SO NEARLY EXISTED
1952. More than a decade since the Dunkirk fiasco forced Britain into an uneasy peace with Hitler.
In Nazi Afrika, under the brutal rule of Walter Hochburg, the swastika flies from the Sahara to the Indian Ocean, gleaming autobahns bisect the jungle and jet fighters patrol the skies.
In England, ex-mercenary Burton Cole is offered one last contract. Burton grabs the chance to settle an old score with Hochburg and departs for Africa.
But when his mission turns to disaster, Burton is forced to flee for his life – every step of his desperate journey revealing another layer of a conspiracy that leads to the dark heart of the Reich itself.
Guy Saville has combined meticulous research with edge-of-the-seat suspense to produce a superb novel of alternate history.
First published by Hodder & Stoughton in 2012.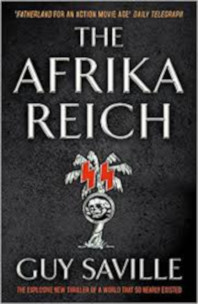 Reviews
Picked for The Economist's "Book Of The Year 2011"
Picked for The Express's "Books Of The Year 2011"
"Fatherland for the action movie age."
(Four stars awarded out of five)
The Telegraph
"The Afrika Reich travels down a path trodden by authors including Robert Harris and Len Deighton… a romp through central Africa… Saville gives us an horrific reimagining of the Dark Continent."
The Times
"Saville's tremendously satisfying debut… will please fans of Frederick Forsyth and Len Deighton. Saville gets everything right—providing suspenseful action sequences, logical but enthralling plot twists, a fully thought through imaginary world, and characters with depth."
Publisher's Weekly – Starred Review
"Mr Saville adds cruel intent to Conrad's "the horror, the horror". His plot is clever, imaginative and, in its finale, wholly unexpected. In a crowded field, "The Afrika Reich" stands out as a rich and unusual thriller, politically sophisticated and hard to forget."
The Economist
"An engrossing and convincing debut.'"
The Express

"A thoroughly enjoyable and compelling read."
(4 stars awarded out of five)
Natasha Harding, The Sun

"Credible realpolitik… a dark narrative".
Kirkus

"Written with style, verve and startling lyricism, The Afrika Reich makes serious points as it entertains."
Historical Novel Review

"Scorching…explosive…weaves real-life figures and some scarily convincing fiction into a plot based on authentic Third Reich plans for the 'Dark Continent'. When this dark and dystopian world is coupled with a cast of credible characters, Machiavellian plot twists, cinematic action scenes and pulsating suspense, the story becomes irresistible…an exciting first novel which blends history and fiction into an unforgettable drama."
Lancashire Evening Post
"There are two main elements to making this kind of fiction all that it can be: a plausible backstory that allows the reader to accept the alternative reality in which its set, and a genuinely pacey and engaging plot. The Afrika Reich has both….Saville delivers thrills worthy of Len Deighton, Alistair McLean…and other masters of the WW2 thriller, in a way that's both action packed and thought provoking."
Bookgeeks

"A blood-pulsing and convincing read".
Peterborough Evening Telegraph

"Gripping, well-researched and terrifyingly plausible, this is a fast-paced, ambitious book that paves the way for its sequel with a jaw-dropping twist."
The Lincolnshire Echo

"Enthralling"
Sydney Daily Telegraph
"This graphic, pacy alternate history thriller is scarily convincing".
The Australian
"With The Afrika Reich, Guy Saville has delivered a highly entertaining read in the vein of Robert Harris' Fatherland and Archangel. Selling us on a plausible and engrossing alternative history, featuring rich characters (who he's not afraid to kill off) and a fastpaced plot."
New Zealand Star
"Saville's alternative world is so carefully crafted, so meticulously researched and so convincing that it is easy to believe it all might have been possible."
Weekend Bookworm, ABC (ie Australian Broadcasting Corporation)
"The alternate history is well research and conceived'"
The Jewish Chronicle
"In focusing on African victimization at the hands of the Nazis, the plot of The Afrika Reich dovetails with recent academic scholarship on the Holocaust…an imaginative and entertaining journey through a nightmarish world that never was".
The Forward

"The Afrika Reich is a gripping novel and a remarkable exercise in alternate history. Basing his work on historical documents, Saville imagines Africa under the swastika in ways to send shivers down the spine. It is an action novel like Bravo Two Zero but one that the author has set with real grace in a world that is both coherent and dreadfully plausible." 
Jacinto Anton, El Pais
"Gripping'"
The Aucklander
"If readers like terrifying stories behind a dense layer of historical depiction (or alternative depictions) this is an unexpected and unforgettable story that they must read. Just beware of sleepless nights."
Geopolitique Africaine

"As a rip roaring Dogs Of War tale with tough guys overcoming all odds against despicable enemies it's a bloody fast read and has more pace than even a Bourne movie".
Hackwriters.com

"While the story alone carries the work, Saville's deep research creates a fascinating world. It goes the extra step that more alternate histories should: exploring the marginalized of these newly imagined worlds. For those looking for more in their Alternate History than speculative essays, The Afrika Reich delivers an exciting story set in a fascinating what-if."
Blogcritics.org / Seattle Post-Intelligencer
Guy Saville's debut novel is a thriller with the heart of a blockbuster and the head of a history junkie."
Christian Science Monitor
"Guy Saville blends fiction with the Nazis' very real plans for world domination in this horrific, thrilling reimagining of Africa"
Culture Shocks
"An explosive, disturbing debut'"
El Tiempo
"Emotionally involving…with the quicksilver pace of such popular thriller writers as Steven Berry and Phillip Kerr."
The Selous Foundation