A tale of domestic catastrophe, accidental crime-busting, deluded match-making and mystical absurdity set in a small town in South India.
Police sub-inspector, Swami has lost his job after suffering a stroke while beating up a Very Guilty Suspect. He can no longer talk properly, command the respect of his community, or give his six daughters the bankrupting dowries they deserve – and his wife is obsessed with securing the Most Expensive Husbands in India. No wonder Swami has lost his pride and wants to kill himself using only a puncture repair kit. Surely, a man in these circumstances has good reason to feel cursed when a white man falls out of the sky and lands on him in a busy street, dying in front of his eyes and making him a laughing stock. But as further strange incidents occur, Swami's hometown starts to believe he is walking with God, and life becomes easier…
Mike Stocks' comic tour de force brilliantly exemplifies how sometimes in life meaningless events can produce meaningful effects.
First published by Alma Books in 2006.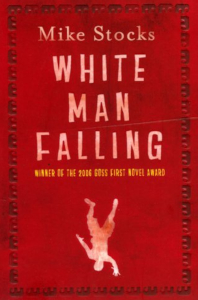 Reviews
'White Man Falling is that rare and wondrous thing – a perfectly realised serious comic novel. That it is also a first novel makes it all the more extraordinary.'
Sarah Dunant, chair, Goss Award
'It is the precision and originality of Mike Stocks' prose that makes this tragi-comedy of Indian manners hard to put down and a joy to pick up.'
The Spectator
'Stocks's poetic background manifests itself in beautiful turns of phrase and in the interweaving of Indian English throughout the text… White Man Falling is a reminder that a single location and perspective, and linear chronology, can be deeply satisfying.'
The Times